ARTIST STATEMENT
I love to illustrate two ideas that don't normally go together, with the intention of bringing a smile to people's faces.
Last year, my artshow at Moonflower Community Co-op joined vegetables with constellations. I had so much fun making that show and I really enjoyed people's responses to it. I knew I wanted to keep expanding on this idea of combining stars and the cosmos with fruits and vegetables.
The idea of changing the zodiac signs into fruits came from people's fun ideas during the veggie constellation show … along with a late night of drinking with friends in a hotel room! How amusing would it be to combine zodiac signs with fruits? We spent the whole night drinking, talking, and laughing about it. I knew I had to do it. This idea has been simmering for a year on my back burner and it wasn't until this summer that I started diving in.
I want this show to be that if you know nothing about astrology, hopefully you get a good laugh…
…but if you know everything about astrology, the fruits will take it to a whole new dimension for you!
Personally I don't know that much about astrology (other than Leo is the best sign, haha!). I knew I needed to find someone who had extensive knowledge of astrology along with a great sense of humor to help me with pairing up the fruit to the sign.
Enter Shari Zollinger, a local astrologer extraordinaire, who I knew from the bookstore and we both taught classes at the Moab Arts and Recreation Center. I didn't know Shari well, but had interacted with her enough to know she was just the person I was looking for!
I went to Shari with my crazy idea and a list of fruits I had devised in a very formulaic way. I had no idea what she would think! It turned out she loved the idea and wanted to collaborate. Yay! Shari and I both agreed it was of utmost importance to be true to the sign and the fruit.
Shari matched most of the fruits with the signs. What a phenomenal job she did and I can't thank her enough for her amazing contributions to this show!
In the end, we only swapped out two fruits from the original list. We swapped out the orange for a grapefruit, and the blueberry for the pomegranate ("Scorpio HAS TO be a pomegranate. I'm really sorry I'm throwing out the blueberry, but Scorpio HAS TO be the Pomegranate." - Shari Zollinger).
The words are a very important component to each sign. Originally, I did not intend to have so many words. Shari had given me a list of important words for each sign and I wrote up the descriptions for each fruit. It was more than I expected, yet all the descriptions felt important to each fruit. I thought that Shari could be on the one to edit them out, right?
We read the descriptions out loud to each other. We laughed so hard and we both knew we couldn't cut anything out. We had to keep all the words to tell the whole story of the newly created fruit sign. We worked back and forth, editing and sending each other the latest updates to get the words just right. I really enjoyed the process of collaborating with Shari. To see it all coming together turned out to be better than I could have imagined!
For the artwork, I used pen & ink combined with watercolors. I had an exact vision of how I wanted them all to be-- strong line drawings with a lot of color, a handwritten look for the words, and for the fruits to be realistic yet have their own stylized personality. It was important to me that all the fruits go well together yet can stand on their own.
I typed up the words on a computer to get the spacing right, but traced them by hand over a light table with six different types of pens. For the fruits, I designed the illustrations in pencil, made line drawings in pen, then painted with watercolors.
I really enjoyed the process of bringing this idea to life. I hope it brings a smile to your face and maybe you learned something new about yourself from the fruit you are. Thank you to Moonflower Co-op for hosting local artists for Artwalk and the wonderful community of Moab for being part of it all.
- Katrina Lund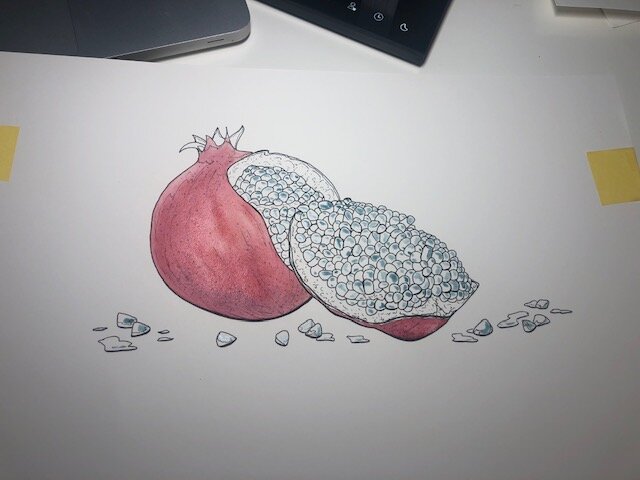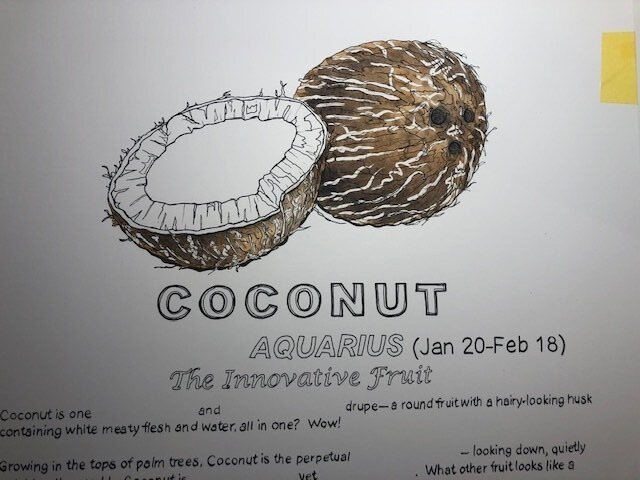 Copyright © 2019, Katrina Lund. All rights reserved. Artwork may not be duplicated, distributed, or used without written permission by the artist.